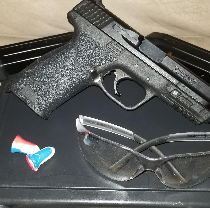 New Gun Owner's Course
Don't be one of the many citizens who has purchased a firearm and carried it without having first taken it to the range to run it through its break-in trials. Yes, break-in trials are a real issue. Most firearms manufacturers recommend firing no less than 500 rounds through your firearm prior to using it in a life or death situation. If you have not completed a proper break-in trial you can not seriously risk your life in an armed confrontation with confidence in your equipment. If this situation applies to you then, we have the perfect course for you.
Our New Gun Owner Course will teach you how to do the following:
Identify the key components of your firearm

Learn the cycle of fire

Safe handling skills

Assemble and disassemble your firearm

Cleaning considerations; how to make your firearm ready

Manipulate your firearm's safety features

Load and clear your firearm

Correct common malfunctions

Ammunition selection for everyday carry (EDC) or range training

Holster selection

State and Federal law awareness

Civil liability protection

Where and how to purchase insurance

I-1639 proofing your life
By the time you complete our course, you will be able to handle some of the most common firearms like a professional. With Gunfighting Systems, you can get one on one instruction or train with a group of new firearms owners. Our commitment is to have you feeling confident in yourself and your equipment. Plus, you will meet all the requirements in Washington to purchase semi-automatic firearms. At the completion of this couse you will have a certificate of completion that meets the I-1639 requirements.